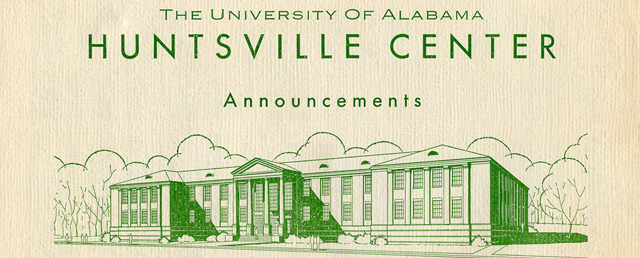 Historic University Publications is the access point for university publications housed in UAH Archives and Special Collections, a division of the M. Louis Salmon Library. Archives and Special Collections collects, organizes, preserves, and makes accessible materials of enduring value that support the research strengths of The University of Alabama in Huntsville. Materials in this collection include but are not limited to student newspapers, departmental publications, administrative records, and other publications of historical significance to the university community.
Materials in this collection may be protected by copyright law (Title 17, U.S. code). Use of these materials beyond the exceptions provided for in the Fair Use and Educational Use clauses of the U.S. Copyright Law may violate federal law.
For additional information about the collections, please contact UAH Archives and Special Collections by phone at 256-824-6523 or by email at . Looking for manuscript collections or university photographs? Click here to visit UAH Digital Collections. View our finding aids here.
Browse the Historic University Publications Collections:
Office of Institutional Research